< Back
"They behave as if it was their territory" - the perception of the Polish people in Russian propaganda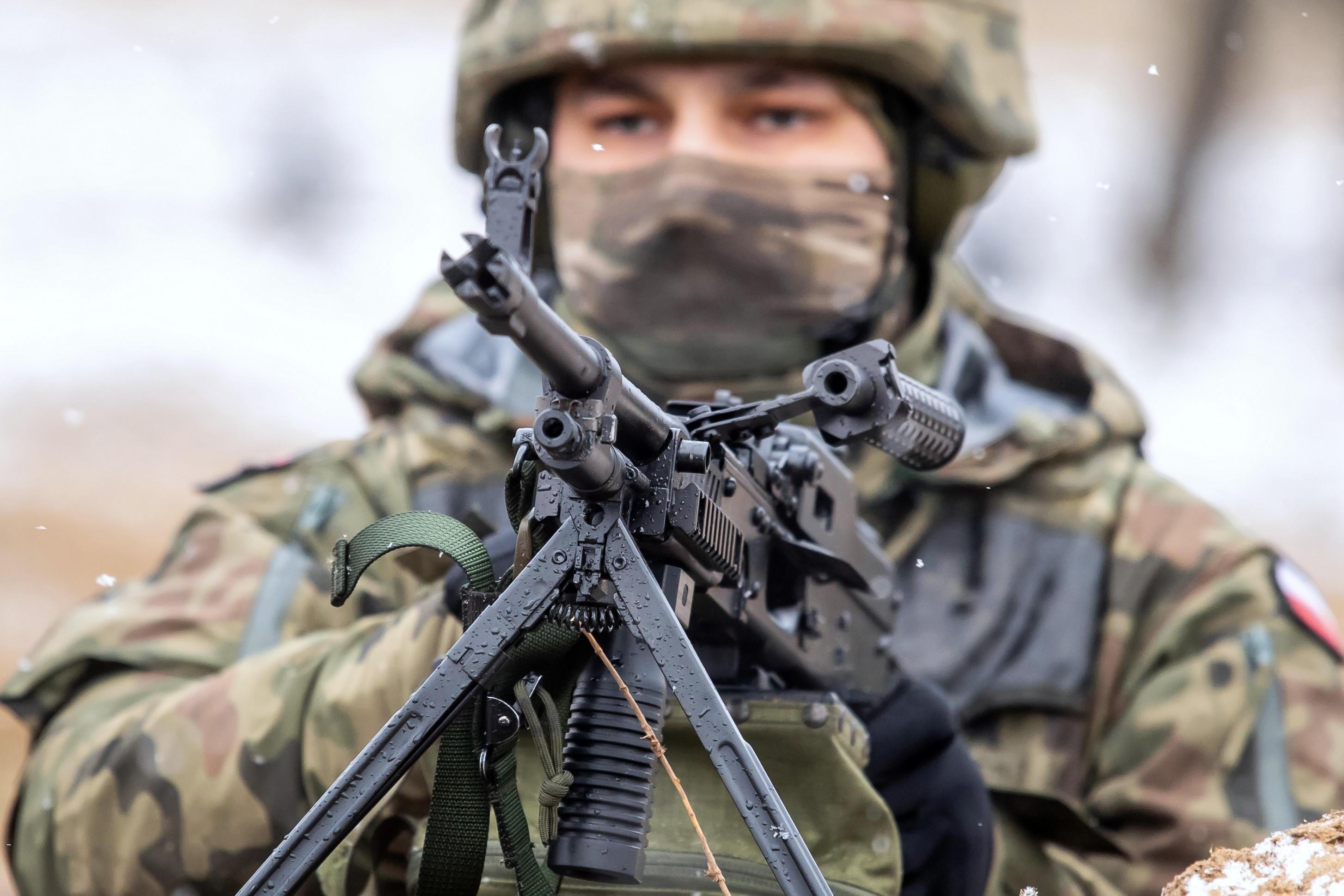 fot. PAP/Tytus Żmijewski
The Russian Investigative Committee has promised to focus on the question of alleged war crimes committed by Polish mercenaries. But Russian media also speak about "good Polish people." These are pro-Russian analysts. Poles are also said to be getting ready to "conquer Lviv" and that they "will freeze to death."
In general, information about Poland and the Polish people in Russian mass media have been "centralised" in state information agencies, and later quoted "word for word" by dozens of small portals. Poles have also been often presented in reports by so called war correspondents, namely, pro-Kremlin bloggers connected with the army and other law enforcement structures, who have been making video reports at the front, and who later publish them on the Telegram app, from where they reach other media.

The following are some of the main subjects concerning Poland and the Polish people in Russian mass media:

"Polish mercenaries"

The subject of western mercenaries or even entire Nato units, against whom Russian soldiers have to fight, returns like a boomerang in Russian propaganda. This is not a new topic as it had been used even before the outbreak of the full-scale war against Ukraine. Even during the Chechen wars, Russians were said to be killed by special units consisting of female snipers from the Baltic States (which had been considered as deeply anti-Russian even in those times).

Stories about foreign mercenaries, including Poles, first appeared during the Ukrainian offensive in the Kherson region. It was said that the Russian army retreated in panic, leaving behind tons of equipment, because it had to fight against the whole of Nato.

In late September, Telegram's popular channel WarGonzo reported that the forces of the Russian Federation had been attacked near Lyman by mercenaries from Poland and Romania: "We have interpreted the Romanian language."

"Poles behave as if it was their territory. Yes... This means that we have been fighting against Nato for our land," said a commander nicknamed Luber.

RIA Novosti reported that Polish mercenaries had shot at civilians. A Kharkiv region resident was quoted as saying that he had recognised them because they used a curse which was popular both in Poland and western Ukraine.

The Investigative Committee of Russia has promised to focus on the alleged war crimes committed by Polish mercenaries. Such a declaration was made by Alexander Bastrykin, the head of this Russian "special prosecution," which had been dealing with the most severe crimes.

"Polish analysts"

Russian media sometimes invite selected "Polish experts" to analyse all matters connected with Poland or quote excerpts from Polish media, which satisfy their narrative. They especially like the Mysl Polska (Polish Thought) portal connected with the Roman Dmowski Foundation.

One of their writers, Przemyslaw Piasta, has been quoted by RIA, a major Kremlin agency, and by the TopWar.ru portal, which deals with military subjects. The author of the Polish portal wrote that the support of the majority of Polish citizens for sanctions imposed on Russia is proof of their "narrow-mindedness." He also said that direct military action against Russia was the worst scenario for Poland as this could lead to unpredictable consequences for the existence of the Polish nation.

RIA has regularly quoted Mysl Polska. For example, in August, it quoted Konrad Rekas, presented as a Polish political scientist, as saying that Polish mass media will be writing about Kiev's defeat in "the special operation" as a strategic victory for Ukraine. All this will come about as the result of Polish censorship.

In July, an article headlined "Reports in Poland maintain that Warsaw had outwitted itself when it tried to defeat Putin," quoted Mysl Polska as saying that Poland's decision to halt imports of Russian coal was a bad move.

Russian propaganda also publish opinions, allegedly binding in a given country, written by anonymous people in the comments sections under articles. This type of action does not only affect Poland.

Where do Russian media find such niche content? There is a service called InoSmi under the supervision of the Rossiya Segodnya media group which has been collecting all articles, statements or posts on social media regarding Russia and translating them into Russian.

An article "A total zero. Poles outraged by the delivery of Bayraktars to Warsaw," is an example of such manipulation. The "Poles" quoted here are several anonymous people, who published their comments under an article on the WNP.pl portal and who criticised the plan to purchase military equipment abroad and not from Poland.

"Poles do not want Ukrainians"

The topic constantly used by Russian propaganda is the problem allegedly caused by Ukrainians in Poland. Russian propaganda often speaks about the alleged threat to the health of Poles posed by refugees. RIA reported that their presence resulted in a growth of HIV cases, and later it was also published by Regnum, a more radical and formally private agency. It does not use the name Ukraine in its articles. It only uses the former USRS abbreviation, namely, the former Ukrainian Soviet Socialist Republic. The project #stopukrainizacjipolski (stop the Ukrainisation of Poland) launched by the Grzegorz Braun party enjoyed much popularity in Russian media. The report about the project accompanied by a statement from Braun was presented on the Russian Television Channel 1 in the "60 Minutes" programme, which is an emanation of propaganda and hatred. The message was simple - Poles do not want Ukrainian refugees in Poland. And the small party led by Grzegorz Braun was presented here as the voice of the entire nation.

"The new wave of refugees from the former Ukrainian SRS may drown Poland" - such is the forecast made by a collaborator of the Regnum agency, Stanislaw Stremidlowski, who quoted Mysl Polska, according to which the majority of Ukrainian migrants "live in neglected areas, which have a high crime rate.

"Because of this, they can start integrating and cooperating with the local criminal underground."

It also says that "another problem is the establishing of so called mono-ethnic ghettos which are the source of all kinds of radicalisation… Polish politicians and media have now been silencing these trends. But sooner or later this abscess will burst and pus will spill over the whole of Polish society," says the article.

"A Polish Lviv"

The theses about Poland's readiness to invade western Ukraine were repeated by Ukrainian MP Illia Kiva, who escaped to Russia after he had been accused of treason. The statements about the invasion of western Ukraine by US and Polish troops were also made by Sergey Naryshkin, the head of the SVR foreign intelligence service, but, in his opinion, this was to happen without a border change.

These fabricated statements met with serious comments by the Cargrad television portal linked to the pro-Kremlin oligarch Konstantin Malofeev.

The pro-Kremlin Izvestia has written that Poland's claims regarding western Ukraine were the result of "the genetic remembrance" of Poles. Mikhail Miagkov, the director of the Russian Military History Society, was quoted as saying that, despite statements being made today by Ukrainian and Polish politicians, there are objective geopolitical, historical and ideological differences in the two countries. And Poland's hidden goal is to return to the borders which the Republic of Poland had in 1772, namely before the partitions.

In late September, Telegram's "patriotic" channels showed pictures of alleged ballot papers for a referendum regarding the return of Lviv to Poland.

"Poland will freeze to death"

Russian media have been actively seeking symptoms of an energy disaster caused by the western ban on Russian energy raw materials.

This also concerns Poland. They have been trying to make an impression that, without Russian supplies, the coming winter will make Europe and "ordinary people" suffer.

The 1prime.ru economic agency has reported that, for a month, Poles were unable to buy coal. However, one has to admit, that the author of the article wrote that people waiting in queues for coal, when asked by a correspondent, "were, in general, not against anti-Russian sanctions." But they considered them harmful in this specific situation.

Izvestia reported that the Polish authorities have been appealing to Poles to save electricity in connection with anti-Russian sanctions. The Rossiyskaya Gazeta quoted the CEO of Poland's PKN Orlen fuel company, Daniel Obajtek, as saying that Europe is facing "a tough winter."

"Poland's residents have criticised the moves taken by the government to get ready for the heating season: comments by dissatisfied citizens were published under a post by former PM Donald Tusk, who wrote that the temperature in apartments will be lowered to 15 degrees Centigrade," the author of the article wrote.

Ria Novosti wrote that both the authorities of Warsaw and Krakow had decided not to organise open-air New Year's Eve parties in order to save energy. This information was not chosen accidentally as New Year is the most important Russian holiday. And the decision not to celebrate it is, according to Russians, an attack against sanctity and tradition.

Pro-Kremlin media, both state-run and private, do not carry as many stories about Poland as could be expected. They no longer publish historical articles regarding Poland and such subjects as Katyn, the alleged collaboration with the Third Reich before WWII, or the removal of Red Army monuments. There are several reasons for this situation. First, Russian propaganda has no time now to speak about these subjects as it has to find reasons to justify the aggression and explain why the "Special Military Operation" has not been going as planned.

The perception of this conflict is another matter. Since the moment when the plan to invade Kiev and install a pro-Kremlin government failed in March, Moscow and its propaganda have been trying to show the conflict not as a local military operation but as a global conflict between Russia and the West. A well-known pro-Kremlin political scientist, Sergey Glazyev, presented on the Cargrad portal, the Russian and pro-Kremlin point of view, according to which the starting of the war with Ukraine was an element of an "Anglo-Saxon" plan to weaken Russia. And this is not an isolated opinion in the Russian public space. In this situation Russia has not been fighting against Ukraine, but against the US, to which nearly all western countries have been subordinated.

If we follow the fiercest statements made by their guests during programmes hosted by Vladimir Solovyov and Olga Skabeyeva, we can see that, while talking about the use of nuclear weapons, they do not speak about the attacks against Warsaw. The goal is always "Anglo-Saxon" London or Washington, the true decision-making centres, are always the goal. Poles are perceived here as the executors of the will of the "hegemon," namely the US, while Poland's strong involvement in the military and humanitarian assistance to Ukraine, which is one of the biggest in the world, has been fading into the background.