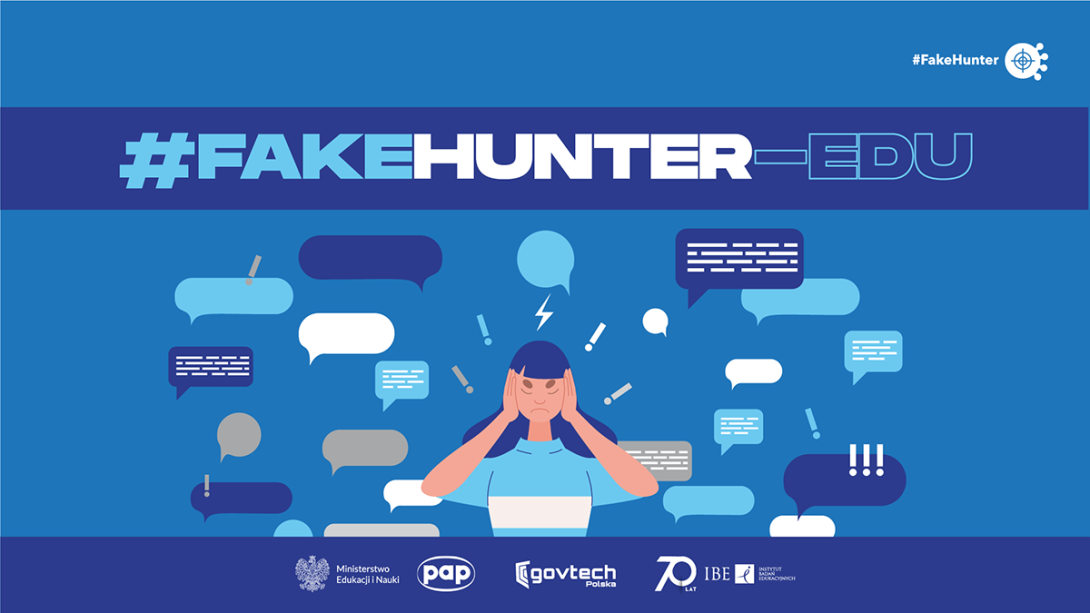 ABOUT THE PROJECT
#FakeHunter - Edu
#FakeHunter - Edu is an educational project for high school students, the aim of which is to raise awareness of the dangers of disinformation, to fight against fake news, to teach young people to verify content published on the Internet and to establish safe behaviour.
As part of the project, #FakeHunter prepared video trainings on counteracting disinformation, which teachers used during school activities with students. In the recordings, we explain how to recognize fake news, what is the phenomenon of disinformation, what is the role of social media in spreading false content and we give tips on how to wisely and consciously navigate in virtual reality. In addition to video training, all secondary schools also received a set of exercises and a lesson plan.
The project is implemented by: the Polish Press Agency, the Ministry of Education and Science, The GovTech Polska Center and the Educational Research Institute.
VIDEO TRAINING
What are fake news
What are the most common topics of fake news?
Who creates fake content on the web and what is the purpose of such activities?
Where are you most likely to encounter manipulated and false information?
VIDEO TRAINING
How to recognize fake news
Look at the author of the publication
Check the source
Check that the information is up to date
Pay attention to the language
Make sure it's not a satirical page
Pay attention to the bias of the medium
Ask an expert
VIDEO TRAINING
Where to check information
If you believe a piece of information may be false, please report it to #FakeHunter. Thanks to this, it will be checked quickly and reliably, and you will receive a report on whether the information is true.
Social media is not the best source of information.
Not only sharing and forwarding messages increases their reach - response to post or comment also.